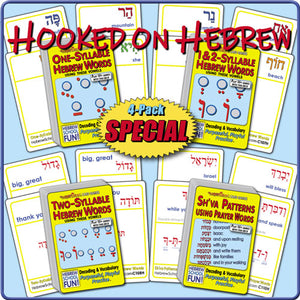 Hurry - for a limited time, this 4-pack is only $29.95.  This price of this item will increase for purchases made after September 30, 2022!
Hooked on Hebrew! Players learn Hebrew Decoding while playing up to 15 card games with every deck. Games include: Go Fish, War, Memory, and Bingo. Everything is included.

Click to view Easy Directions.
Contents:
One-Syllable Hebrew Words C105H
1 & 2-Syllable Hebrew Words C107H
Two-Syllable Hebrew Words using 10 Vowels C108H
Sh'va Pattern Using Prayer Words C110H
Each deck contains 52 standard size cards, 3.5 x 2.25 in. (includes 48 playing cards, directions card, list card and Old Maid card).